PDFs are still one of the most commonly used types of documents on the internet even they are more than 25 years old. From an e-book to a contract, from accessing your W-2 to the e-bills, everything is mostly in the forms of PDF. In some industries, doc files, excel files are converted to PDF readers to get it in a chart form and play with them. But, to view these important document files, you will need to download best PDF readers on your device that can be a laptop, PC, iPad or phone. edit sodapdf
There are tons of PDF readers available out there in the market. Though some can cost you a lot- almost a thousand dollars per year, still there is some PDF reader which will charge you nothing. So, you can download them from the internet and find some best PDF readers.
Here, we created a list of the best PDF readers which give you a large array of features from creating, editing and securing them too.
10 best PDF readers available for free:
Foxit Reader
Foxit Reader is just like the Google Docs and one of the best PDF readers for sure. With the tool, you can create, share and secure your PDF files in the cloud. For creating the PDF files, you can upload scans, convert Word documents, PowerPoint presentations, and Excel sheets, and even combine multiple PDFs into a new file.
Moreover, if you want to collaborate with someone-just say colleague, you can grant and revoke the permissions for accessing the documents too. Also, you can keep the track on who is opening your document and view their activity details- from edit to comments. The Foxit Reader also allows you to notify the readers about the new updates you have done in the PDF.
Foxit reader also gives an extra notch with multiple security options to keep your PDFs safe and private. You can create passwords, digital signatures, and encrypt your PDFs for better security. If you create PDFs regularly for your job and need a way to collaborate on the same file, Foxit would be a great option.
Surely, one of the best PDF readers!!
Adobe Acrobat Reader DC
Adobe Acrobat Reader DC is a free Adobe's PDF reader. The PDF reader connects to the Adobe Document cloud and other cloud storage systems like Box, Dropbox, and Microsoft OneDrive. It further lets you open, view, shares, and comment on PDFs from anywhere and on any device you want- whether it is your laptop, PC, iPad or any smartphone.
Acrobat Reader DC has pretty cool features integrated into it. Overall those, one that will surely blow your mind is that it can read out loud. The PDF reader can read the text out loud which further helps in guiding you along the document which is damn challenging to read or you are unable to read.
If you are a business professional who doesn't want to spend a single buck and who needs to annotate PDFs on the go or on their commute on any PDF reader software, then this Adobe's free Adobe Acrobat Reader DC is just the perfect one for you.
Due to all these crazy features and especially that "reading the text out loud" feature, Adobe Acrobat Reader DC gets a solid place in the list of best PDF readers.
Nitro Reader
Nitro Reader is undoubtedly one of the best PDF readers which has a big reputation for striking a good balance between usability and advanced features. The PDF reader has a beautiful and smooth user interface. Nitro Reader gives you a large chunk of tools but you also have to access them to create, review, secure and share PDF files.
The Nitro Reader gives you an extra option to drag and drop your documents into the reader. Further, you can play with your PDF draft and design it with custom colors, font embedding, orientation, and many more things.
Just when you have the dire need to review the document file, the PDF reader's review pane helps you edit, comment, and give you a suitable feedback. Nitro Reader secures the files with a great tool called QuickSign. It protects your document files with a password and signs your documents. Sharing documents with Nitro Reader is also damn too easy and secure. You can share documents with anyone since the PDFs you create in Nitro Reader are compatible with almost every other PDF reader.
So, if you are one of the power user searching for a free PDF reader, Nitro Reader will just do the thing for you. This makes it stand strong and solid in the list of best PDF readers.
Soda PDF
Soda PDF is probably one of the best PDF readers for reading visual document files like magazines, books, comic books, and digital catalogs. Moreover, you can even view the files in 3D forms. This PDF reader allows you to both create and edit PDFs from the bottom i.e scratch.
Soda PDF also sells its online PDF platform. And, they drive demand for it by offering free PDF tools on their website like convert to PDF, convert from PDF, merge, split, & compress, sign & secure, and insert elements like watermarks and page numbering.
Soda PDF provides dynamic features like:
Open and view any PDF file. Read .ePub and comic book files (.cbr / .cbz)
View in 3D with our unique page-flipping technology
View and work on two documents on the same screen with our exclusive side by side view
Access and save files from the cloud. Connect to OneDrive, Google Drive, Dropbox, and Box
Send your files to Evernote to view and edit them on multiple devices
You can also use these online tools as a proxy for a downloadable PDF reader if you want to save space on your computer. Yes! that will act as a cloud. This makes this PDF reader one of the best PDF readers for sure.
Your Web Browser
Web browsers like Google Chrome, Firefox, and Safari all have blended PDF readers in themselves. To view a PDF on your browser, all you have to do is click on the PDF link. You can also open PDF files that are already saved on your computer by moving them to an open tab in your web browser.
Additional features included in most browsers' PDF readers are rotating, download, print, adjust text size and other features. If you don't need to convert files into PDFs and you only need to view PDFs, you don't need to download a PDF reader. You can just use your web browser for viewing them. And, trust me it will give you a great experience.
PDF-XChange Editor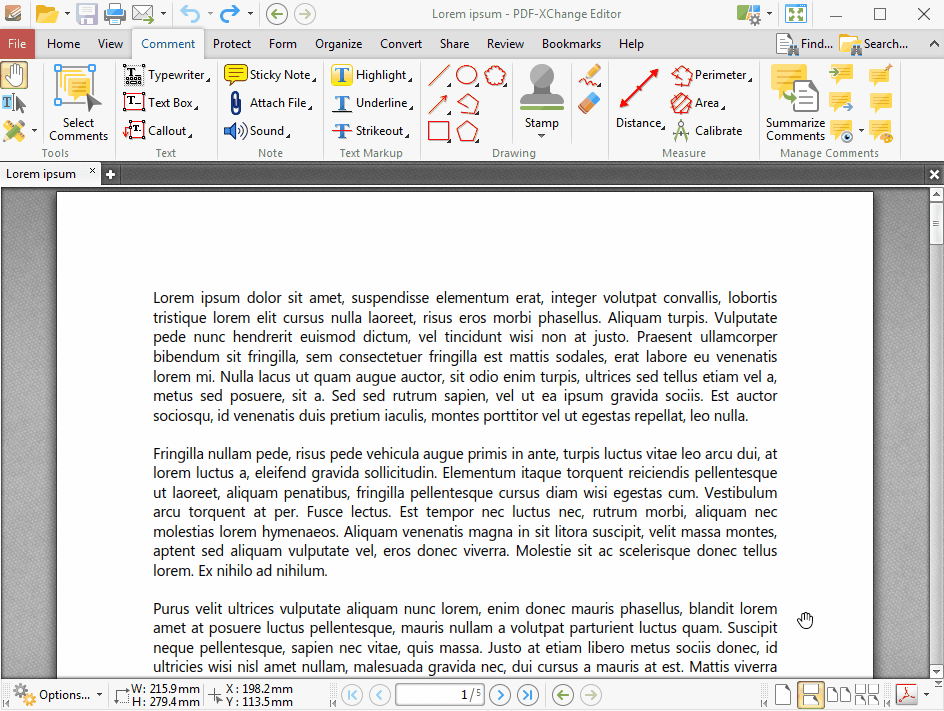 PDF-XChange Editor is one of the most clean and best PDF readers which are available for free out there in the market. With this clean PDF reader, you can create, view, add notes, record and attach audio, highlight text, attach files, strikethrough words, and add signatures.
Among these cool features, PDF-XChange has a feature which no other PDF reader has. PDF-XChange Editor has a Optical Character Recognization tool which can scan printed documents and convert the text into a searchable document.
Moreover, PDF-XChange Editor has features like:
Just click and start typing to edit any text or image, exactly like you would on a word processor. Fully edit PDF text and images in every way you can when using other file formats.
Turn paper documents and scans into fully editable, selectable and searchable PDFs in over 25 language. Select "Searchable Text Image" or "Editable Text" mode when performing OCR.
Transform PDFs into other file types, like Microsoftâ"¢ Word, Excel, PowerPoint, HTML, Image and more with a simple click.
Transform non-fillable forms made in Word, Excel and other office applications into interactive, fillable PDF forms with a single click.
So,if you want to create, edit, and share PDFs at work a lot, PDF-XChange Editor is surely the best PDF reader for your work.
PDF Reader Premium
PDF Reader Premium is one of the best PDF readers for free available specifically for your Macs. Not only the best but also one of the most popular out there with over 50 million downloads.
One of the key features of this PDF reader is that it lets you open your PDF in multiple tabs, annotate your document with images and sticky notes, organize your files with tags, sign signatures and fill out forms on your PDF, and store and transfer PDFs through a variety of cloud services.
If you have day to day business on the PDFs, then PDF Reader Premium is the perfect choice for you.
Javelin PDF reader
Javelin PDF readers provide all the center functionality needed for viewing standard PDF files and PDF files encrypted using our free Drumlin Publisher software (.drmz and .drmx files). These readers support internal and external hyperlinks, contents/navigation trees, a range of page display formats, plus document text searching, annotation, and markup. Encrypted files are protected against content copying and onward distribution.
They may also have restrictions applied such as whether printing is permitted and whether they expire at some point and can no longer be viewed.Though the download size of the file is of two MB only, it is a good choice still. It doesn't have extra features like editing and it is faster than many PDF readers with a simple and clean user interface.
So, if you want to take notes and read the PDF files quickly, Javelin PDF reader is the PDF reader for you.
SumatraPDF
If you are looking for an open source and a lightweight PDF reader, SumatraPDF does the job for you. The software is licensed under GPLv3 license and supports formats like PDF, EPUB, MOBI, FB2, CHM, XPS, and DjVu.
The PDF reader is free and light and its 64-bit installer are just about 5MB in size. The software will simply deliver an amazing reading experience with fast performance and basic features. Though it lacks many advanced features like annotation, document signings, and form filling, still it is one of the best PDF readers.
The PDF reader supports many keyboard shortcuts to navigate easily and improve the reading experience. Sumatra also brings features like easy previewing of LaTeX documents and you can configure different text editors to integrate Sumatra, and supports running in restricted mode.
If you are looking for a simple and fast PDF reader, then SumatraPDF is just the software you were looking for you.
Slim PDF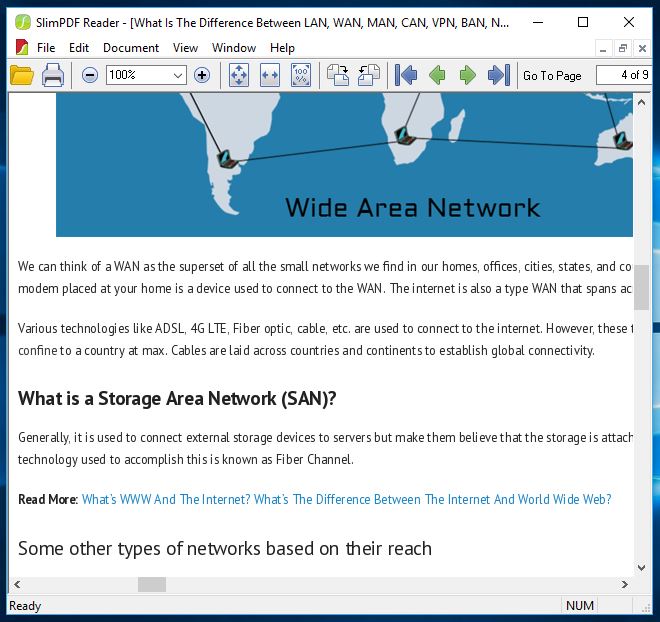 Like the SumatraPDF, SLim PDF is just another light and one of the best PDF readers available out there in the market. As per itself only, it is the world's smallest desktop PDF reader. With the download size of just 1.43MB, it looks like they are right about their claims.
Not only good for reading, but this software has also focused on reading, viewing, and printing your PDF files. The PDF reader is ultra fast and loads very quickly and complete the job in very less time. Though it doesn't support many keyboard shortcuts, it won't much disappoint you. If you are looking for a portable PDF reader, this PDF reader does the job for you.
So, here we have come to the end of best PDF readers list which will do your work easy and peezy. In case we have missed any of your favorite and best PDF readers, you can mention their names in the comments section below.
For more tech news and updates, stay tuned at our website, TechDuffer.
Read this also=List of Best PDF Editor Apps For Android
http://credit-n.ru/zaymyi-next.html
http://credit-n.ru/zaymyi-next.html микрозаймы